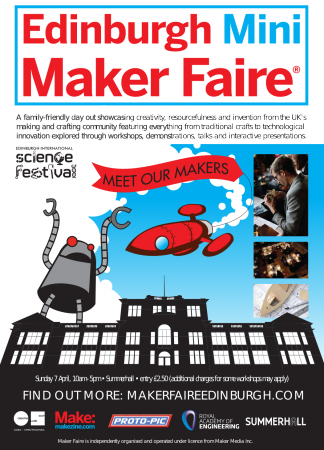 Good news everyone! It's just over a week until the Edinburgh Mini Maker Faire!
Put Sunday the 7th of April from 10AM in your diary and come down to Summerhall for:
Robots!
Electronics!
3D printing!
Flashing lights!
Skulls!
Boats!
Etc!
As the Mini Maker Faire will be at Summerhall (where Hacklab lives), in addition to our stand in the Faire we'll open the lab for the day. Come down and see some of the projects that have been worked on at the lab and have a chat with some of the members. There'll be lots going on in the Faire and the lab.
The lab will be open for free entry, the Faire will cost you just £2.50 and is guaranteed to be awesome. Skip the queue and buy your tickets online.
See you there!