Category: Uncategorized
After some kerfaffing we finally managed to get our favourite Mexican take away - Los Cardos - to deliver to our new home in Summerhall!
Nom nom nom …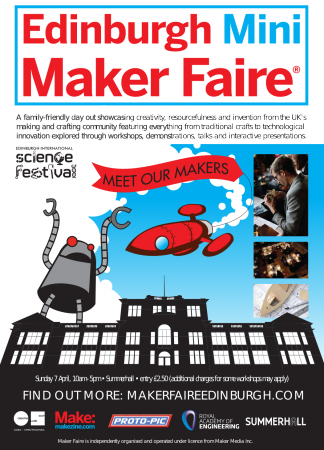 Good news everyone! It's just over a week until the Edinburgh Mini Maker Faire!
Put Sunday the 7th of April from 10AM in your diary and come down to Summerhall for:
Robots!
Electronics!
3D printing!
Flashing lights!
Skulls!
Boats!
Etc!
As the Mini Maker Faire will be at Summerhall (where Hacklab lives), in addition to our stand in the Faire we'll open the lab for the day. Come down and see some of the projects that have been worked on at the lab and have a chat with some of the members. There'll be lots going on in the Faire and the lab.
The lab will be open for free entry, the Faire will cost you just £2.50 and is guaranteed to be awesome. Skip the queue and buy your tickets online.
See you there!
So Runesketch was the game we tried to get ready for Make Game Month in November. Sesh! That seems like a long time ago. We tried alpha testing it a bit Feb, but there were not many biters. Its hard to judge what the problem was, was it too hard to find someone to play against? Too hard to work out the rules? Too slow to play the game? Did it look too crap?
Anyway the latest iteration is much closer to our intended game design. The biggest feature is the sketch is in Runesketch! You can draw your own art, and sell it to other players for gold. We wanted a game where creative people could become become top dogs as well as the traditional gamers. If you are a good drawer, you will make so much gold that you will be able to afford the best cards. So there are multiple ways to get gold, win battles, draw art or even speculate on art.
Anyway, we think we are getting somewhere now. The other niggles have hopefully been addressed. There is: a tutorial, a multilayer version where the AI plays both hands (an async match, only one person needs to be online), loads more cards, loads more powers and a better UI. We have Facebook integration, so players have a choice between FB logins or our authentication. Facebook players are able to put their art into their photo albums (and thereby advertise their arts for sale to their friends, for fun and profit).
We have a forum as well, so hopefully it will be easier for the alpha players to communicate their feedback (although you can email me directly of course).
Technologically we have made huge strides. Before, the latency for taking a turn was 8 seconds and about 30 DB operations. Previously, during light testing we were filling our daily free allowance of Google App Engine credit in no time. Now taking a turn is 300ms, involves no database writes (the game is all in memcache), and we have not since made a dent in our daily free quota. For those interested in the technical side of things, I can't recommend the GAE mini profiler developed by the Khan Academy team enough. It tells you down to the stacktrace where each blocking operation occurs and for how long, even on a deployed site, through a JS overlay on your site.
Anyway enjoy the game! And buy LordTom's Healing Light :p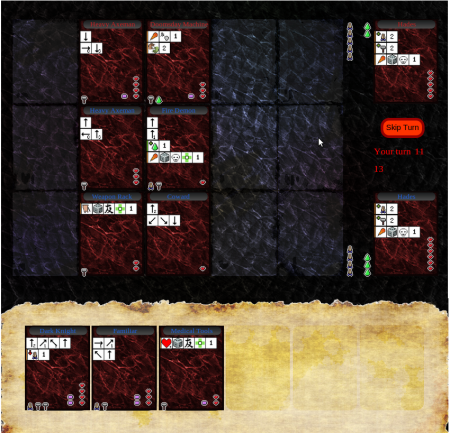 The loins of #makgammon (make a game month) are bearing fruit. Runesketch the collectable card game is ready for alpha testers. When Runesketch was aired for #makgammon, common feedback was that the rules were incomprehensible, the multi player was hugely buggy to the point of being unplayable and generally it looked like a game that took a month to make (even though it was three months old!). It did not work on Firefox either which a lot of hacklabbers use, doh!
So in response the front end has been given a major facelift. We have added fight animations to make the rules a bit more self documenting, and added a tutorial to get people started with the rules. The game has an AI and some missions so multi player is not critical for playing the game. That said, multi player is the most fun. Hopefully some of the problems of multi player have been fixed, although you will probably need to coordinate with another players manually to ensure people are online to play. Its fun though! It also works on Firefox! (I don't think it works on safari though

, we want it work work on iphone so that will be in the pipe at some point). Who cares about Internet Explorer. I assume it does not work on IE.
Just to recap the mechanics of what runesketch is in case you have not been following it religiously. You fight another wizard with your best 10 cards, which represent the product of a spell or something like that. So a major part is making a "deck", a set of 10 cards that fight well together:-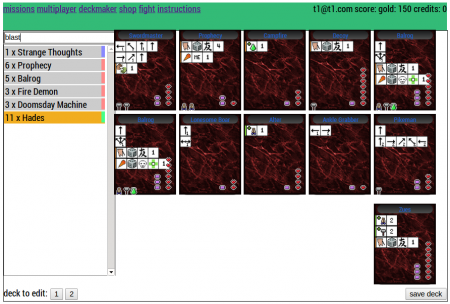 In a fight, the dualing wizards take turns playing cards (casting spells). What the cards actually do in a fight is down to the symbols on the card. Once the card is in play it is not interacted with. The wizards choices are only what cards to play and when, and what cards to bring to battle. Each wizard has a special commander card, and the aim is to kill that card, normally by getting your offensive cards to cross the table and attack it. Some cards are economy cards and generate faith, might or realisation. Most cards have an economic cost to them, if you can't pay the cost of a card you lose it, and one point of health is deducted from your commanders health. Thus, it is also possible to kill and enemy commander via economic shutdown.
The choice of cards going into battle is one of the most important choices to make in fighting. You can get more cards by winning battles, collecting booty and heading to the shop … and so with better cards you can win more rewarding battles, to get cards faster…. and so that main game loop is born.
Hope you give runesketch a whirl, and more importantly, send me your annoyances to tom.larkworthy@gmail.com
Tom Larkworthy & Tom Joyce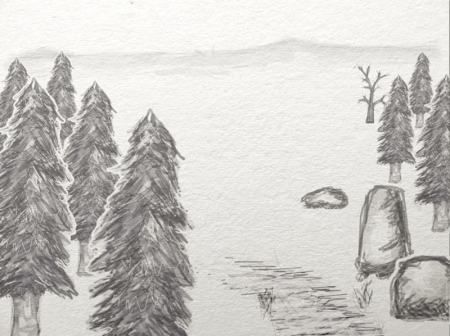 So 1st of December was the conclusion of make a game month, an idea that was created by Edinburgh Hacklab. Was it a success? Yes, but maybe not how we initially expected it to be. Of the 5 initial developers who said they would build a game, only one turned up. However, we had some extra game developers turn up unexpectedly, and the range of concepts explored that evening was exceedingly broad.
RuneSketch
Runesketch was a game that was already under development when the idea of makgammon was suggested. Thus, the 2 person dev team had a significant advantage in pulling something together in a month. The concept of Runsketch is a collectable card game (like pokimon) that players fight over the internet. Winning matches makes "money". Money buys more cards to improve card decks. Which makes fighting easier etc. etc.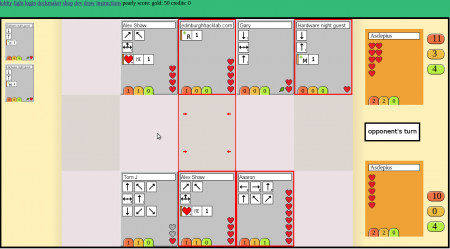 Runesketch is designed to be played over the internet, checkout www.runesketch.com. However, like many many demos before it, it didn't work on the night! However, we did manage to play three games on the local development server using a laptop.
Feedback from the gamers on Runesketch was quite inspiring. The cards were humorously themed on actual members from the Hacklab. Recognising the mapping between known personalities and mechanics on the cards brought a lot of engagement as a result. The actual game was too complicated for people to learn in a casual setting. The idea of a simpler Hackerspace game caught the imagination of some of the visitors that night. That game is an ongoing concern. So lookout for a working demo some time early next year.
Hand Drawn Maze game
Gary Martin came to the lab with an OLPC's XO-4 Touch computer and some beautiful scenes drawn using it. The maze game would be played in much the same way as a text adventure, the player could turn 90 degrees, go forward a step etc. The players view would be generated by by billboarding hard drawn representations of each tile and transforming them into the correct position. As the game is played on a grid, the math of projection is much simpler and 2D drawings can be used instead of 3D data (eat your heart our Carmack).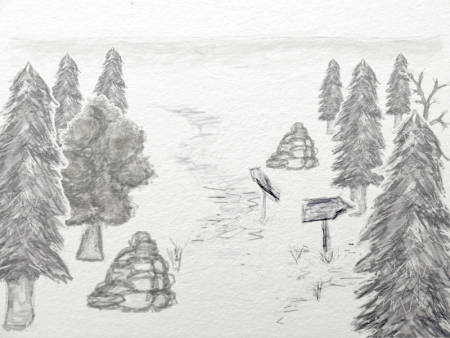 For the actual mechanic Gary was drawing inspiration from Hunt the Wumpus. While not fully decide yet, perhaps the player would also have an AI on the map they would need to interact with. However the main innovation is the graphics engine, the beautiful scenes and how they were drawn. Everyone was amazed at the responsiveness of the XO-4 touch interface. It is not a capacitive technology like the iPad and has an instantaneous response. Its really good for drawing and you can use physical objects instead of fingers to do fine detail. This game would be an excellent starting point for people to learn about game's programming.
The Game of Storytelling
Pearly dropped in to show us some early conceptual work he has done towards a game about story telling. His observation is that 4 people in a room should be able to create a story about whatever. Story telling is more than a chronological list of facts that happened, or things that were said, but also about the how and why. Its also about how the audience reacts to the presentation. It is the meta aspects of story telling that makes the difference between a dull or engaging documentary. Pearly's aim is to distill the whole story creative process into a game dynamic that can be explored by a group of people.
One of the key parts of this mechanic is a dice with metaphorical story structures drawn upon it. One side of the dice represents the future, the past etc. In addition, further labelling decides how the group as a whole expresses the dice's intent. So for certain rolls a group of 4 would split into 2 groups and one group would passively listen to the other two doing an improvisation for example.
Unfortunately the game is not in a playable state yet. It sounds fantastically novel. I image all players need to be dedicated for the system to work, but has the potential for blowing minds if everyone really gets into it. It might be really useful for writers who already understand the mechanics of stories. Perhaps tutorial should be in video format so noobs could understand the flow better.
Excom
Alex Shaw (co-organiser of makgammon) was unfortunately ill

However he did send us the link to his game Excom http://www.glastonbridge.co.uk/games/excom1/. That game made me laugh as soon as it was opened. The graphics and language are all stamped with Alex's personality.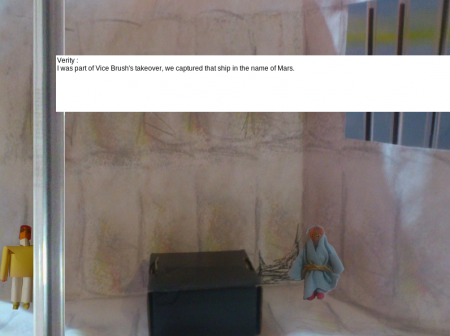 The game so far is working towards being a graphical adventure a bit like monkey island. There is not much to do yet but you can move your character around and enjoy a dialogue between two NPCs in the initial room. The story setting doesn't make one iota of sense yet, but it is charming and worth the 60 seconds to play. I can't wait for more!
Conclusion
In the end it did not really matter that very little was playable. There were 4 groups that focussed on different aspects of game creation. Alex's game was dialogue driven, Gary's graphical driven, my teams was mechanic driven and Pearly's was pure blue sky meta thinking. If a game had all these things you would have a fantastic game, so there is enormous value in being immersed in a room with these ideas flowing around concurrently. I am sure I am not the only one who thought "Damn that's cool, I would have never thought of doing that".
I do hope we do this again next year, and next time we should emphasize that an actual playable game is not so important as the concept behind it. Having something playable is a great illustration of course, but a finished game in one month developed casually is close to impossible.
I recently wrote about a free way of running version control without owning a server, by hosting a remote repository in a Dropbox folder. One concern raised about using git on Dropbox was "what happens if people push at the same time". The fear is that the conflicts would irrecoverably corrupt the git repository and cause a headache. Of course we have the local backups of data, but there was a nagging doubt that perhaps a corrupted server could corrupt a local repository. Anyway I tested what really happens by doing it, and learn a bit about git in the process.
Experiment
I wrote a script that commits random data and pushes to a bare repository hosted on Dropbox. After push blasting the Dropbox folder with 1,000 pushes from 2 machines in parallel, syncronisation with Dropbox took ages longer than usual (10 minutes)
Read the full article »
Do you have dreams of making a game, be it physical, computerised, or otherwise?  Are those long November evenings looking cold and empty?  Read on.
November is known to many hobbyist authors as National Novel-Writing Month, a month where you can sit down every evening and write 1667 words.  At the end of 30 days, you've written 50,000 words, and you can claim to have written a novel.  This year I had made plans to do exactly that, but as I evolved my ideas into a plot, I realised that it would be more fun to make an adventure game.  And so I repurposed November as Make a Game Month.  Every day, for thirty days, I would develop a bit of the mechanics, the artwork, the music, or the plot structure of the game.  After thirty days, it might not be perfect but it would be a playable game and I could share it with friends.
When I told my friends about this, it turned out that a few of them were doing the exact same thing.  More still were inspired by the idea, and it's kind of in the process of snowballing into something amazing.
Want to join in?  Here's how!
Rules:
Between 1st November and 30th November, make a game.  Any sort of game.
On 1st December, let someone else play your game.
A winner is you.
(National Novel-Writing Month has a lot more rules than we do.  This doesn't really make as much sense with games, so we suggest you think of your own rules to stick to, to reach the best game you reckon you can make in thirty days.  If you want to bounce ideas off other people, there are suggestions below for places to do that.)
Stuff that isn't rules:
Click the reply button below, and tell us what you're going to make!
Sign up and chat on the hacklab-discuss mailing list.  Tell us about the game you're going to make, tell us how you're getting on, ask questions, send us pictures when you're finished, find beta testers, whatever you like.
Tweet using the hashtag #makgammon.
Come along to the Edinburgh Hacklab on the 1st of December at 5pm to show off your game, and play other people's.
It can be any sort of game, the fact that I am making a computer game myself is purely coincidental.  Make a card game, a roleplaying game, a music game, whatever might entertain you.
The only prize is the game that you made, though if more than five people are likely to show up on 1st December I might get some badges made.
You can give it to someone for Christmas.
Make a game, play it.  What's not to like about that?
I just saw this on Y Combinator Hackernews. As a connoisseur of Conway's Game of Life I am blown away by its coolness. Its so beautiful!
Hackers, musicians, developers, bloggers and more, crowded into the Dissection Room at Summerhall on the 24th of August to take part in Music Hack Day Scotland, an international event that brings together creative minds to produce new and innovative musical things.
The event opened up with talks from Edinburgh artist and app developer Yann Seznec, highlands-based band and musical inventors Found, Marco Donnarumma the creator of the Xth Sense musical instrument, audio data chirruping Chirp.io, and pioneering electronic musician Matthew Herbert. There was an unusual theme of sampling pigs, and a large focus on challenging and inspiring the audience. We went away brimming with ideas, and after a short break we had some presentations from groups providing tools and software to help us realise those ideas. Groups like Raspberry Pi (Eben Upton was here!), MusicBrainz, Songkick, LastFM, Spotify, Deezer, and Edinburgh's very own Musemantik were on hand with cool tools. There was also a big bucket of electronics gear liberated from the Lucky Frame vaults for us to solder on to. We made our way downstairs and got cracking.
All through the night, there were bleeps, shouts, and the sound of the lift going upstairs on coffee runs. I'm not going to lie, I went home and got a good few hours' sleep. This is the first MHD to arrive in my home town, and I was going to take advantage of the creature comforts!
Here is a video of the hacking by Julien Pearly:

The new day began with a fire alarm. Fortunately no-one broke rule zero, and we were allowed back indoors to hack with vigour. By five o'clock we were all tired, but our hacks were done. We left the hacking area and presented our new creations.
There was a great focus on producing things to create something unusual and expressive,
like the Drum Hack for enabling people to play drums using their eyes or feet. Will, its creator, is a teacher who was inspired to create something for people with physical disabilities, and built it from a toy drum kit. There were also some great uses of existing streaming music and music data; the Lyric Pictionary game, which fetches lyrics from any song and lets you guess the missing words, was one startlingly entertaining addition. The BagpipeHack by Magnus was a pleasingly Scottish presence, allowing lone pipers to rehearse and share their music with like-minded cat-stranglers across the internet. The audience came together to share in the Massively Multiplayer sequencer. You can find them all at the Music Hack Day wiki.
All in all, it was a great hack day which captured the creative energies of a hundred ingeneous minds from all around the world. Everyone was friendly, supportive, and driven by a desire to create marvellous things.
As a closing note, and a small slice of spam, there is a regular music night at the Hacklab every third Friday of the month. If you were at Music Hack Day and now want to polish your music hack, or if you feel inspired to start a music hack of your own, come along on the 21st of September and join us for an evening of making noise and things that make noise. James and I will be working on getting the mighty Ducktar finished, and may even perform the Iron Maiden classic "Fear of the Duck."
What is Edinburgh Hacklab?

Edinburgh Hacklab is part of the worldwide movement of Hackerspaces - shared spaces for people who mess around with technology for fun. By creating a shared space to do this, we provide access to better facilities than we could each have at home, as well as opportunities to collaborate, learn, and socialise. Read more.

Hacklab status: OPEN!

Next events

May 2013

»
M
T
W
T
F
S
S

1

2

3

4

5

6

7

8

9

10

11

12

13

14

15

16

17

18

19

20

21

22

23

Events on 23 May 2013

Software Night

Ends:

23 May 2013 - 11:00 pm

24

25

26

27

28

Events on 28 May 2013

Open Night

Ends:

28 May 2013 - 11:00 pm

29

30

Events on 30 May 2013

Software Night

Ends:

30 May 2013 - 11:00 pm

31

Hacklab

Categories

Recent Posts

Archives

Recent Tweets