Category: Mechanical
Marcel was busy over the weekend using the hacklab CNC mill to make some pretty cool embosing dice.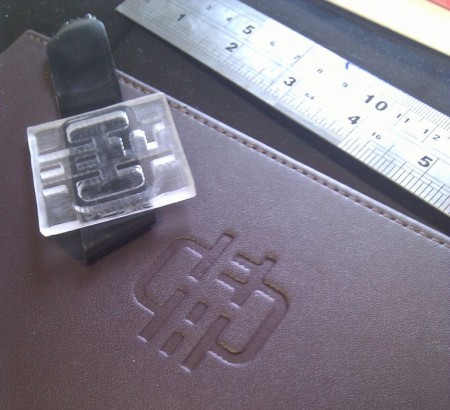 He has written an Instructable describing the process.
Our robot arm is learning to control itself from optical feedback alone! We connected the Lagadic's visual servoing platform (ViSP), OpenCVs robust homography estimator and University of Edinburgh's Locally Weighted Projection Regression (LWPR) adaptive control to create a software stack for a cheap USB robot arm toy and a webcam. The hardware cost about £48, and it took us 6 weekends to connect up cutting edge open source research software. Yes! All this software is free! It's been paid for already. I hope this article will guide people towards making use of these valuable public domain resources. We used an adaptive control scheme so at no point was robotic geometry measured, and instead the software *learnt* how to move the robot from experience alone.
Motivation
To recap (here and here), our goal is to build high precision robot systems using cheap components, and now we have actually tried a control installation. The existing approach to precision machinery is to spend lots of money on precision steel components and more or less control the machine open loop (without feedback). CNCs are a good example of this where the lead screws are *really* expensive. This approach made sense when we did not have cheap methods of precision feedback, but now we have cheap cameras and cheap computation (thanks smart phones), an alternative method for obtaining precision could be to just to use dodgy mechanics and closed loop control (feedback). Visual feedback is particularly attractive because: its easy to install; it is contactless (so does not affect the motion of the thing you want to control) and it doesn't wear. With vision you can just slap markers on a mechanical part and off you go (with the appropriate software).
Edinburgh Mini Maker Faire took place last Sunday, at Summerhall. Hacklab being on site made it easy for us to get involved.
The centre piece of the lab's projects was a marble-run with a magnet-based lift belt, based on a previous version installed in the Forest. By Saturday evening the run was starting to take shape, but there was a lot still to be done. After "rapid prototyping" and trying out different ideas the run was completed and briefly tested just as the sun was rising.
As visitors started to arrived the marble run sprung into action. As with the previous version it had a tendency to drop ball bearings once in a while, so the area directly underneath was cordoned off and a "ball picker" equipped a magnet on a stick positioned to retrieve fallen balls. Occasionally a ball lacked speed to negotiate the loop in the run, resulting in a blockage that was again cleared with the help of a magnet.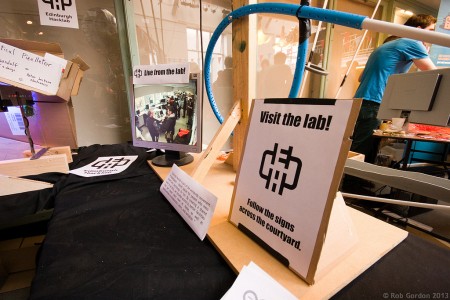 Gandolf's Optical Pixalator and Andy's takeaway carton based Airship attracted attention and discussions with visitors. Peter wondering around with his LED Sombrero perched precariously on his head.
The hacklab was open for vistors and was almost full to capacity on a few occasions. Gary brought along many One Laptop Per Child machines for people to play with. Tom L also did some musical CNC. Some familiar faces dropped by to say hi and a quite a few first time visitors were impressed and we expect to welcome them back on an open night or to a workshop.
Thanks to everybody involved: those who worked on projects, the other exhibitors, Edinburgh Science Festival for doing organisation, and most importantly the visitors who came and made the day a great success. Bring on next year!
Someone at work broke my favourite mug. Well, the freebie mug I was using. Clearly I needed a new one, and the only logical solution was to build a machine to draw the image of my choice onto a blank mug.
Evil Mad Scientist sell an egg bot kit – it draws a design onto an egg (or other broadly spherical object) using a couple of stepper motors, controlled through an Inkscape plugin. The control board is available separately (the whole project is open source), and is a fairly neat 2-stepper and single-servo controller, connecting to the host PC as a serial port over a USB cable. Hence most of the electronics and software were already taken care of, and I could concentrate on the hardware.
There are a range of mini-ITX form-factor motherboards these days, usually supplied with a low-power CPU as well as the normal on-board options such as LAN and audio; just add memory, PSU and some form of storage to get a complete, very small PC. Oh, and a case, which is usually where the fun begins.
I've built a mini-ITX board into a bread-bin in the past, which worked fairly well for several years, but I wanted to have a go a manufacturing a case rather than re-purpose something. So one trip to ebay to acquire the parts (dual-core Atoms don't feel much faster than single-core ones) and I was ready to start.
The case was intended to be cut out of acrylic, or whatever plastic stock the laser likes working with. however MDF is a lot cheaper, so the initial test-cuts were done in that. In the end the MDF looked nice enough to stick with – I might be tempted to rebuild it in plastic at some point in the future. The case was designed in SolidEdge CAD – I've never found a open-source CAD program I like, and SolidEdge is the free-but-proprietary program I'm most familiar with. I've been told several times about box-building programs which will layout all the little tabs for you, but it's more fun to do it yourself.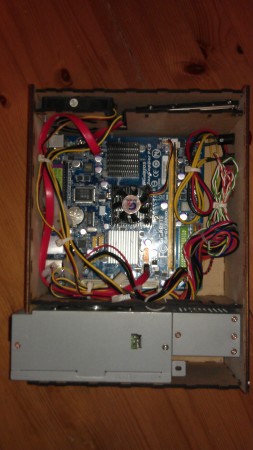 This shows the overall layout of the case – it's designed around the ancient 220W PSU I had kicking around, which is probably a unique size. The hard disc and system fan sit in the top compartment, and a couple of LEDs and switches on the front panel. The motherboard sits on some of the normal spacers you always get with a case or motherboard, screwed into pilot holes cut into the side panel. Unfortunately I got the maths wrong converting the imperial units in the mini-ITX standards (thanks guys) back to metric, so it's only held in with three screws – one more reason to . The front and rear panels are held in with M3 screws into nuts which were epoxied into place – you can just see them in the corners of the 2nd and 3rd horizontal pieces. You can also just make out the slots for the DVD-drive brackets, before peer pressure from various lab members convinced me I didn't need it.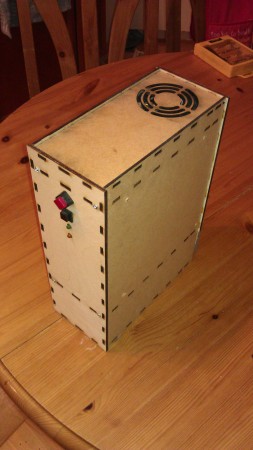 The completed case – running Bohdi Linux and sitting the corner of the kitchen playing videos and MP3s and generally doing little that couldn't have been achieved with a Raspberry PI for a fraction of the cost and effort. And fun.
Robotics blogger, Per Sjoborg, from flexibilityenvelope, is coming to visit us on Sunday the 20th. He is bringing the coolest pieces of consumer modular technology yet, Modrobotic's Cubelets. I'll be down from 2pm onwards if you would like to join us, or do any other kind of robotic hacking.
Tom
Edinburgh Hacklab is pleased to announce the arrival of a rather special bit of equipment, a laser cutter.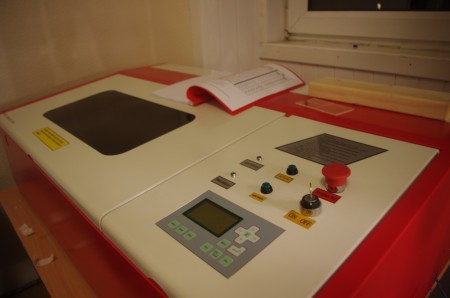 So what does one do with a laser cutter? It enables high resolution (0.0254mm/1000dpi) engraving and/or cutting of a wide range of materials including Acrylic, Crystal, Bamboo, Cloth, Fabric/Denim, Fiberglass, Glass, Laminated Plastic, Leather, Marble, Plastic, Paper, Rubber, Wood, MDF, Marble, Anodized Aluminum and Coated Metal.
Af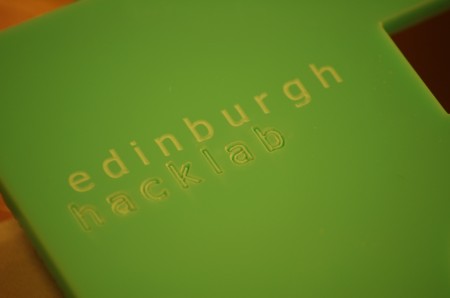 ter the initial setup was complete little time was wasted before lasering began!
Training for members will be taking place over the coming days and weeks, so expect to see some great stuff being made.
Enjoy the full installation process taking place in a time lapse video below.
Maria and I were working last week fabricating four identical complex pieces out of ABS plastic. Initially we though a lowish feed rate combined with a fast cutting speed would give the best results but actually that's not true. ABS suffers from the material melting and reattaching tangental to the circular cutter, so the effect is that when you cut, you end up drawing frayed lines over the surface. This is particularly noticeable on 90 degree corners and in deep pockets (concave regions). The first fix we tried was running the same program a second time. This did improve the situation but not enough to give it a finished look.
New Oldham couplings for the Z and Y axis have been fitted. The X axis has not been replaced but it has also never been broken. We have the bits to fit the X axis, we can do it next round of breakages :p Slop and backlash have been greatly reduced, and the machine sounds smoother now.
I think we should not use the previous vice for gripping and instead get a new precision one. The old vice was too big, heavy and did not have parallel jaws when tightened. Recommended milling vices seem to use a totally different mechanism to ensure the jaws stay parallel under pressure, for example http://www.arceurotrade.co.uk/Catalogue/Workholding/Machine-Vices
What is Edinburgh Hacklab?

Edinburgh Hacklab is part of the worldwide movement of Hackerspaces - shared spaces for people who mess around with technology for fun. By creating a shared space to do this, we provide access to better facilities than we could each have at home, as well as opportunities to collaborate, learn, and socialise. Read more.

Hacklab status: Closed :(

Next events

May 2013

»
M
T
W
T
F
S
S

1

2

3

4

5

6

7

8

9

10

11

12

13

14

15

16

17

18

19

20

21

Events on 21 May 2013

Open Night

Ends:

21 May 2013 - 11:00 pm

22

23

Events on 23 May 2013

Software Night

Ends:

23 May 2013 - 11:00 pm

24

25

26

27

28

Events on 28 May 2013

Open Night

Ends:

28 May 2013 - 11:00 pm

29

30

Events on 30 May 2013

Software Night

Ends:

30 May 2013 - 11:00 pm

31

Hacklab

Categories

Recent Posts

Archives

Recent Tweets