gde
This Friday, 18th May, is our monthly music night, starting from around 8pm in the lab. Come along to talk about music, hacking, and make some noise! The month before last I wasn't there, and I missed out on Andrew and Tom's resistive fabric synth, and James and Matt of Madlab making instruments out of jelly. Don't make the same mistake I did: make sure you come to the lab on Friday!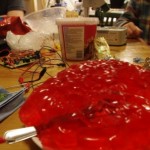 This month Gareth is going to talk about using cSound to create sounds on your computer, and I hope we'll have some live performances from anyone who fancies it. There'll also be the usual blether and working on hacks throughout the night.
Bring your own hacks, ideas, news, and performances.
Hope to see you there

Alex
As we approach the first birthday of Edinburgh Hacklab, it's becoming clear that we've reached the limits of the space we're currently occupying in Out Of The Blue.
So it's time for the Hacklab to take the next step – we're looking for a new space. Broadly speaking, we're looking for a minimum of 500 sq ft, 24 hour access, able to be secured by us and well served by public transport.
Keep watching for updates on how we are getting on with our search, and if you have any tips on spaces that might be appropriate for us, please email, Facebook or tweet us up.
Made good progress on the speaker cabinet at the Hacklab last night, ably assisted by @tinyblob. Unfortunately, the screws I bought for the back panel are a few mm too short so I need to do some shopping. Getting close now, though.
I still need to chisel out pockets for handles on the accompanying 4U rack box but that shouldn't take long.
Software night is rolling around again – the lab will be open from 7pm onwards tomorrow evening (Wed 23rd March).
I've been doing some work integrating Janrain's social sign-on into one of my websites and will be happy to talk about the upsides and downsides of that.
Meanwhile, Markos/@qnoid has posted a good summary of what software hacking is going on in Edinburgh at the moment to the TechMeetup mailing list – and linked to a neat Google spreadsheet project list. Some food for thought/discussion/finding work!
Cheers,
Jay
Software night will be back as usual this evening – feel free to post any ideas for stuff you might be working on, and come along with laptops, drinks and/or nibbles.
The project list from last time is available here.
There should be some tinkering with the 'pattern' NLP library for Python going on as well if anyone's interested.
I'll aim to open the lab for 7pm – in practice may be there a little earlier.
Cheers!
Jay
Last night we completed a vital new piece of equipment, the safety socket.
The safety socket is a design by Kevin O'Connor of London Power that has been published in his book "Tonnes Of Tone". It uses domestic light bulbs as a power soak to protect equipment-under-test in the event of a potentially catastrophic failure. It's a simple design that can save hundreds of pounds worth of gear from destruction.
Now it's completed, it becomes part of the growing library of test equipment available to builders and experimenters in the Edinburgh Hacklab.
Here are some images showing the construction process:

Dallas Makerspace have some blog coverage of Gareth's visit to their space:
Gareth Edwards of Edinburgh Hacklab and Dorkbot Alba in Scotland is our latest international visiting hacker. He dropped by the Dallas Makerspace on Sunday (7 Nov) to check out our newly painted warehouse area and help us pull the plastic tarps off all our gear. Edinburgh Hacklab and Dorkbot have done projects similar to some of our own including a really cool computer controlled pipe organ that puts our puny vacuum reed organ to shame.
Michael McLeod has given us another mention on the Guardian Edinburgh blog:
The StartupCafe blog reports that Friday's Edinburgh Hacklab opening was packed with people and ideas, including a homemade quadrocopter, an LED top hat and robot cupcakes.
Thanks, Michael!
What is Edinburgh Hacklab?

Edinburgh Hacklab is part of the worldwide movement of Hackerspaces - shared spaces for people who mess around with technology for fun. By creating a shared space to do this, we provide access to better facilities than we could each have at home, as well as opportunities to collaborate, learn, and socialise. Read more.

Hacklab status: Closed :(

Next events

May 2013

»
M
T
W
T
F
S
S

1

2

3

4

5

6

7

8

9

10

11

12

13

14

15

16

17

18

19

20

21

22

23

24

25

26

27

28

Events on 28 May 2013

Open Night

Ends:

28 May 2013 - 11:00 pm

29

30

Events on 30 May 2013

Software Night

Ends:

30 May 2013 - 11:00 pm

31

Hacklab

Categories

Recent Posts

Archives

Recent Tweets