aldroid
Music hacker, dabbler, drinker, imbecile.
Do you have dreams of making a game, be it physical, computerised, or otherwise?  Are those long November evenings looking cold and empty?  Read on.
November is known to many hobbyist authors as National Novel-Writing Month, a month where you can sit down every evening and write 1667 words.  At the end of 30 days, you've written 50,000 words, and you can claim to have written a novel.  This year I had made plans to do exactly that, but as I evolved my ideas into a plot, I realised that it would be more fun to make an adventure game.  And so I repurposed November as Make a Game Month.  Every day, for thirty days, I would develop a bit of the mechanics, the artwork, the music, or the plot structure of the game.  After thirty days, it might not be perfect but it would be a playable game and I could share it with friends.
When I told my friends about this, it turned out that a few of them were doing the exact same thing.  More still were inspired by the idea, and it's kind of in the process of snowballing into something amazing.
Want to join in?  Here's how!
Rules:
Between 1st November and 30th November, make a game.  Any sort of game.
On 1st December, let someone else play your game.
A winner is you.
(National Novel-Writing Month has a lot more rules than we do.  This doesn't really make as much sense with games, so we suggest you think of your own rules to stick to, to reach the best game you reckon you can make in thirty days.  If you want to bounce ideas off other people, there are suggestions below for places to do that.)
Stuff that isn't rules:
Click the reply button below, and tell us what you're going to make!
Sign up and chat on the hacklab-discuss mailing list.  Tell us about the game you're going to make, tell us how you're getting on, ask questions, send us pictures when you're finished, find beta testers, whatever you like.
Tweet using the hashtag #makgammon.
Come along to the Edinburgh Hacklab on the 1st of December at 5pm to show off your game, and play other people's.
It can be any sort of game, the fact that I am making a computer game myself is purely coincidental.  Make a card game, a roleplaying game, a music game, whatever might entertain you.
The only prize is the game that you made, though if more than five people are likely to show up on 1st December I might get some badges made.
You can give it to someone for Christmas.
Make a game, play it.  What's not to like about that?
Hackers, musicians, developers, bloggers and more, crowded into the Dissection Room at Summerhall on the 24th of August to take part in Music Hack Day Scotland, an international event that brings together creative minds to produce new and innovative musical things.
The event opened up with talks from Edinburgh artist and app developer Yann Seznec, highlands-based band and musical inventors Found, Marco Donnarumma the creator of the Xth Sense musical instrument, audio data chirruping Chirp.io, and pioneering electronic musician Matthew Herbert. There was an unusual theme of sampling pigs, and a large focus on challenging and inspiring the audience. We went away brimming with ideas, and after a short break we had some presentations from groups providing tools and software to help us realise those ideas. Groups like Raspberry Pi (Eben Upton was here!), MusicBrainz, Songkick, LastFM, Spotify, Deezer, and Edinburgh's very own Musemantik were on hand with cool tools. There was also a big bucket of electronics gear liberated from the Lucky Frame vaults for us to solder on to. We made our way downstairs and got cracking.
All through the night, there were bleeps, shouts, and the sound of the lift going upstairs on coffee runs. I'm not going to lie, I went home and got a good few hours' sleep. This is the first MHD to arrive in my home town, and I was going to take advantage of the creature comforts!
Here is a video of the hacking by Julien Pearly:

The new day began with a fire alarm. Fortunately no-one broke rule zero, and we were allowed back indoors to hack with vigour. By five o'clock we were all tired, but our hacks were done. We left the hacking area and presented our new creations.
There was a great focus on producing things to create something unusual and expressive,
like the Drum Hack for enabling people to play drums using their eyes or feet. Will, its creator, is a teacher who was inspired to create something for people with physical disabilities, and built it from a toy drum kit. There were also some great uses of existing streaming music and music data; the Lyric Pictionary game, which fetches lyrics from any song and lets you guess the missing words, was one startlingly entertaining addition. The BagpipeHack by Magnus was a pleasingly Scottish presence, allowing lone pipers to rehearse and share their music with like-minded cat-stranglers across the internet. The audience came together to share in the Massively Multiplayer sequencer. You can find them all at the Music Hack Day wiki.
All in all, it was a great hack day which captured the creative energies of a hundred ingeneous minds from all around the world. Everyone was friendly, supportive, and driven by a desire to create marvellous things.
As a closing note, and a small slice of spam, there is a regular music night at the Hacklab every third Friday of the month. If you were at Music Hack Day and now want to polish your music hack, or if you feel inspired to start a music hack of your own, come along on the 21st of September and join us for an evening of making noise and things that make noise. James and I will be working on getting the mighty Ducktar finished, and may even perform the Iron Maiden classic "Fear of the Duck."
It's a week before the next music night, but I've finally got round to writing up the last event. We kicked off with some real, actual laptop and guitar jamming, led by Julien. More of this sort of thing! Gareth gave us a talk about cSound, and Gary (who's an OLPC dude) also happened to know about cSound use in the XO laptop. We then spent a happy few hours playing with mobile music gizmos and playing our homemade electronica mp3s.
Friday the 15th is the next music night. Come along, bring your ideas, your instruments, your vibes. We're also playing mp3s of our music hackers' own work, so if you'd like your music played on the night then email a link to hacklab-mp3s@glastonbridge.co.uk
The hottest Friday night in Edinburgh, our monthly music event returned last week for more of the best in eccentric homebrew action. We saw Andrew Kieran's fabric potentiometers – hand-woven cloths designed to behave as electronic components – being used to control sequencers and to drive synths.
Andrew was good enough to explain some of the technology behind his creation, though sadly my phone was not up to the job of videoing much. Tom Hardiment demoed his arc tweeter, a speaker that emits sound by modulating a high-voltage electrical arc.
Also, Ioann Maria brought a nostalgia trip in the form of an old Amiga 600 with Protracker in the disk drive. Naturally, after we'd worked out how to make it make noises we had to wire this to the arc tweeter. Tom Larkworthy wrote a whole set of strange and wonderful vocal modulations in SuperCollider.
A good time was had by all, the next one is on March 16th!
This was a particularly formidable night, owing to the arrival of Stephen with his awesome home-made hurdy gurdy.
I also gave a bit of a talk about SuperCollider, and some hacklabbers got to try it out on their laptops. We got Ioann's old Yamaha keyboard working and played with pugs.
The next music night will be on the 17th of February. Is there something you'd like to hack next month? Join us on our mailing list and come along on the night!
Last weekend in the Barbican in London, a whole bunch of hardware and software hackers got together for Music Hack Day.  Anyone who likes a bit of music in their hacks should check out this event, where everyone gets together for 24 hours and creates new and innovative music applications.  Sponsors like Spotify, Novation, Last.fm and more (check the MHD website, there's loads of them) open up their technology, pay for the pizza and beer, and give prizes to the creators of their favourite hacks.
At the end of 24 hours, 62 different hacks were made, from Kinect dancing games, to owl keyboards, to musical t-shirts.  The London Hackspace were out in force, running a neat little room of hardware hackery that yielded some great projects.  They also wrote a blog entry, which you can read here.
To my mind, the most mad-scientist-worthy hack was the Helimin, a musical instrument that you control by flying a remote controlled helicopter across the room.  Evil genius.  Despite Terrible Manflu I managed to make a little facebook-wall-enabled step sequencer that I may yet finish one day.
If you like music, you like hacking, and you like sleep deprivation, you should go to Music Hack Day.  If you want to see the future of music technology, here is a complete list of all the hacks that were completed and demoed last Sunday afternoon.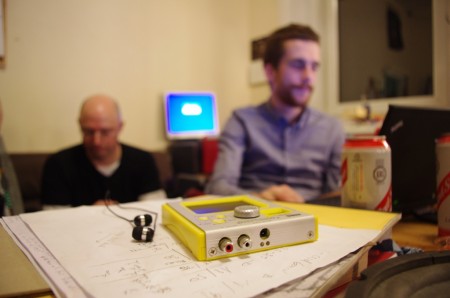 Okay, so I'm writing this with a bit of a sore head because we were hacking till gone midnight and I had to get up early the next day, but it was worth it.  Last night was the first in a monthly series of music hack nights at the lab, and it was crazy popular.  There were more people than chairs at some points in the night!
There was lots of talk, lots of playing with real and software instruments, some soldering, some embedded audio, and even some flashing lights.  Watch the video at the end of this post to get a feel for the vibe.  There was also discussion about ways to involve hacking with music, technology and performance.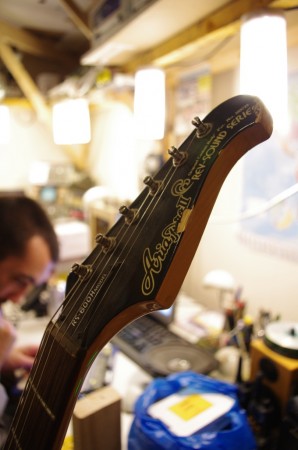 Thanks to everyone who came along and made it a great night.  We're planning the next one for the 16th of December and we're hoping to do a jamming session.  There's a public wiki for sharing our ideas right here.  Go there and add yourself to the People page, or to suggest things to do in December.  We'll argue about it nearer the time on the hacklab-discuss mailing list

Next week, November 18th, we will be trying out a music hackers' night at the Edinburgh Hacklab.  This night is aimed at anyone who wants to make ingenious noises somehow.  Crafts, software, electronics, philosophy, whatever you're into that is hacky and musicky.  There's no fixed agenda, meet us and help us choose a direction for this fabulous-sounding new night!
We'll be kicking off at around 8 although the doors will be open for a while before.  Bring your ideas, your hacks, the tuba you made out of ikea packaging, and your hacking spirit.
What is Edinburgh Hacklab?

Edinburgh Hacklab is part of the worldwide movement of Hackerspaces - shared spaces for people who mess around with technology for fun. By creating a shared space to do this, we provide access to better facilities than we could each have at home, as well as opportunities to collaborate, learn, and socialise. Read more.

Hacklab status: Closed :(

Next events

May 2013

»
M
T
W
T
F
S
S

1

2

3

4

5

6

7

8

9

10

11

12

13

14

15

16

17

18

19

20

21

Events on 21 May 2013

Open Night

Ends:

21 May 2013 - 11:00 pm

22

23

Events on 23 May 2013

Software Night

Ends:

23 May 2013 - 11:00 pm

24

25

26

27

28

Events on 28 May 2013

Open Night

Ends:

28 May 2013 - 11:00 pm

29

30

Events on 30 May 2013

Software Night

Ends:

30 May 2013 - 11:00 pm

31

Hacklab

Categories

Recent Posts

Archives

Recent Tweets