Al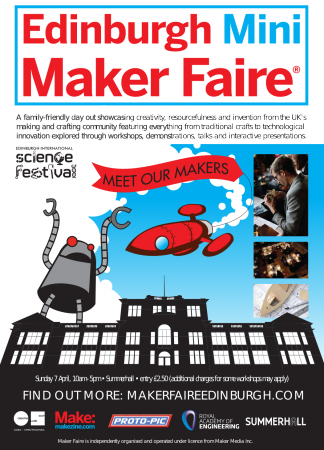 Good news everyone! It's just over a week until the Edinburgh Mini Maker Faire!
Put Sunday the 7th of April from 10AM in your diary and come down to Summerhall for:
Robots!
Electronics!
3D printing!
Flashing lights!
Skulls!
Boats!
Etc!
As the Mini Maker Faire will be at Summerhall (where Hacklab lives), in addition to our stand in the Faire we'll open the lab for the day. Come down and see some of the projects that have been worked on at the lab and have a chat with some of the members. There'll be lots going on in the Faire and the lab.
The lab will be open for free entry, the Faire will cost you just £2.50 and is guaranteed to be awesome. Skip the queue and buy your tickets online.
See you there!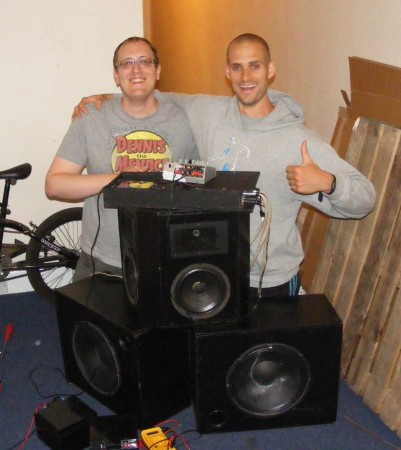 We had an interesting visitor to Tuesday's Open Night: Ben Hammond of LearnBurma. Ben is currently dancing from John O'Groats to Land's End! It's all to raise awareness of the situation in Burma and some money for charities working in and for Burma. You can read more about Ben's challenge on the Dance Britain website.
So where does Hacklab come in to this? Well, Ben's dancing along to a trike-mounted soundsystem (which some poor sucker in the crew has to ride), but hit a few a few sound issues around Dundee (particularly some dodgy connectors and "farty" bass). We made some repairs and twiddled about with the amp and active crossover and got it sounding pretty sweet. Ready to roll on south!
Here's Ben's trip so far…
Ben and the crew will be passing through Edinburgh soon, keep an eye on @dancebritain for updates, and an ear out for a loud trike…
Our friends at Farnell recently sent us a Weller BP645EU battery-powered soldering iron to play with. We put it to the test and here's what we thought…
The first impressions are good. It's a nice, simple, product: throw away the instructions, install three AA batteries, remove the cover, slide the switch to on and hold the button for (near)instant soldering gratification. After faffing about with butane irons it's a nice change. No lighters or gas refills required, no adjusting, just a single button. To quote a tortise: it's easily turn off and onable.
It takes a few seconds to get to temperature and then the solder flows well (we tested with 60/40 solder because we're old school) and the tip works great. The warm up time is comparable with a butane iron but – and it's a big but – there's no locking switch. The button has to be held down for the iron to stay hot, if you let go to put the iron down to fiddle with the wires you're soldering you'll have to wait for it to warm up again. A hack in the form of a piece of sticky tape cross the switch would do the trick, but don't forget to switch off when your done!
We tested the iron on a couple of little jobs around the lab, I installed an LED onto Peter's Nanode and Tom L used it to bodge a new power supply into Martin's BBC Micro prior to the birthday do. It worked fine for the Nanode LED job though it took a while. Reading the side of the iron explained the time taken: "6 Watts". It took a while to get heat into the ground plane of the Nanode because of this. The iron struggled when Tom used it on the larger power terminals in the Beeb (he eventually moved onto a "proper" mains powered Weller iron (an antique, but similar Weller irons can be found here)).
The obvious use case is for jobs that would be a pain to do with a corded iron. It is ideal for car PC/stereo wiring, bike lights etc that sometimes need solding attention. It's likely to be used for tweaks to the Hacklab CNC mill which is on the opposite side of the lab to the soldering bench.
Pros: Easy, cheap, uses readily available AAs, very portable.
Cons: Lacks locking switch, low power.
Conclusion: A good deal for the money, handy to have in toolbox for little jobs away from the mains. If you're near the Hacklab then feel free to give it a go on an open night and see what you think (it lives on the soldering bench)!
Earlier this year, Edinburgh film student Kelly Jamieson visited the lab to make a documentary. Now it's on YouTube for your viewing pleasure.
See Aaron's payphone being investigated!
Experience Martin philosophising on hackerspaces!
Watch TomH tinker with the CNC!
It's all here in Hacklab: A documentary!
What is Edinburgh Hacklab?

Edinburgh Hacklab is part of the worldwide movement of Hackerspaces - shared spaces for people who mess around with technology for fun. By creating a shared space to do this, we provide access to better facilities than we could each have at home, as well as opportunities to collaborate, learn, and socialise. Read more.

Hacklab status: OPEN!

Next events

May 2013

»
M
T
W
T
F
S
S

1

2

3

4

5

6

7

8

9

10

11

12

13

14

15

16

17

18

19

20

21

22

23

Events on 23 May 2013

Software Night

Ends:

23 May 2013 - 11:00 pm

24

25

26

27

28

Events on 28 May 2013

Open Night

Ends:

28 May 2013 - 11:00 pm

29

30

Events on 30 May 2013

Software Night

Ends:

30 May 2013 - 11:00 pm

31

Hacklab

Categories

Recent Posts

Archives

Recent Tweets