Month: August, 2012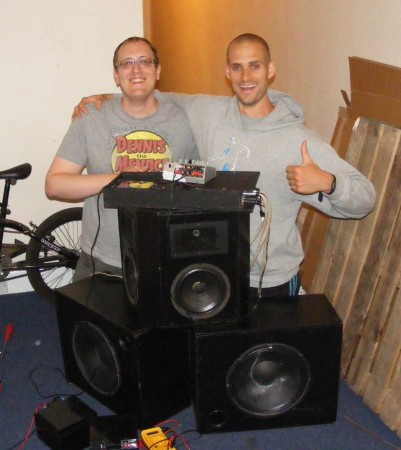 We had an interesting visitor to Tuesday's Open Night: Ben Hammond of LearnBurma. Ben is currently dancing from John O'Groats to Land's End! It's all to raise awareness of the situation in Burma and some money for charities working in and for Burma. You can read more about Ben's challenge on the Dance Britain website.
So where does Hacklab come in to this? Well, Ben's dancing along to a trike-mounted soundsystem (which some poor sucker in the crew has to ride), but hit a few a few sound issues around Dundee (particularly some dodgy connectors and "farty" bass). We made some repairs and twiddled about with the amp and active crossover and got it sounding pretty sweet. Ready to roll on south!
Here's Ben's trip so far…
Ben and the crew will be passing through Edinburgh soon, keep an eye on @dancebritain for updates, and an ear out for a loud trike…
In true Hacklab style we found out about the event (Thanks Jane!) with less than a week to go. After a bit of hasty origination we had 4 Android phones, 4 people, 3 bikes and one car.
The rules were simple. Go to points marked on the map, use a clue to find the answer and enter into the App. Only the first player to enter the correct answer at each location would score. When a clue was solved 2 extra locations would appear somewhere on the map. About 15 minutes before the game started we were shown the game area, it was larger than expected.
Alistair, James and Peter, were riding bikes whilst David was driving a car. Strategies were discussed and then simplified to, "go to an unclaimed point near you that somebody else isn't near to". We were up against a team with some serious looking cyclists, wearing Lycra, sun glasses and everything. We were a bit worried that our lack of cycle fitness might find us wanting…
We left Edinburgh Napier Craiglockart campus at 2pm, with 2 hours to get as many answers as possible. Most clues were fairly straight forward but some involved a bit more work and strange looks from members of the public as an out of breath cyclist asked what was written on the plaque attached to the bench they were sitting on! There were a few technical hiccups with Alistair's phone hitting the data cap and then the battery running out. It gave him a bit for free time to do some juggling entertaining passers-by in the Meadows. The really nice weather meant reading phone screen was sometimes a little tricky in the sun, but it's much better than having a wet phone.
Slightly surprisingly Edinburgh Hacklab pulled out ahead and the final score was 18, 4. James got the most points solving 6 locations, whilst Peter got 5, including ne with 45 seconds to spare. It was a really enjoyable day and has given us some ideas for future location games.
Many thanks go the other competitors, the organising team especially Brian who was very receptive to our bug reports and enhancement suggestions. Thanks also to the sponsors for providing prizes. More information on the Coderace website Alistair has also blogged about his experience
Looking forward, to next year's event with hopefully more teams to compete against.
Why on earth would you like to spend an evening on a laptop after you most likely have been sitting on an computer for the last 8h? Because its cool, right?!
Code & Coffee is a software night that I host at the Edinburgh Hacklab. It is my pet project, to give me an hour or two every week to work on an ideas I fancy. As with every pet I do get attached to what I am making. Which is great, because it allows me to continue even if I am frustrated about my progress so far.
I am not a programmer by daylight. And here is a the secrete: most answers are on the interwebs and mailing list archives anyway. Here is an other one: 99% of the code I write and sketches that I draw are ending up in this cupboard folder called "Desktop2012″.
I don't care.
I do care that there is once a week a space in my calendar where I am speaking with the other people about ideas and ways on how to solve problems than most likely, I didn't know exist before. I do care that there is a welcoming atmosphere where people feel encouraged to talk about the design and coding traps they are facing and listen how people found a way around them. It has often a bit a campfire feeling, but don't get me wrong: learning is something I have to do myself. There is nobody that designs and codes for me, but their is a Hacklab community out there that, inspires me.
Feel free to come along: Thursday 9th Aug 2012 7:30ish.
What is Edinburgh Hacklab?

Edinburgh Hacklab is part of the worldwide movement of Hackerspaces - shared spaces for people who mess around with technology for fun. By creating a shared space to do this, we provide access to better facilities than we could each have at home, as well as opportunities to collaborate, learn, and socialise. Read more.

Hacklab status: Closed :(

Next events

May 2013

»
M
T
W
T
F
S
S

1

2

3

4

5

6

7

8

9

10

11

12

13

14

15

16

17

18

19

20

21

Events on 21 May 2013

Open Night

Ends:

21 May 2013 - 11:00 pm

22

23

Events on 23 May 2013

Software Night

Ends:

23 May 2013 - 11:00 pm

24

25

26

27

28

Events on 28 May 2013

Open Night

Ends:

28 May 2013 - 11:00 pm

29

30

Events on 30 May 2013

Software Night

Ends:

30 May 2013 - 11:00 pm

31

Hacklab

Categories

Recent Posts

Archives

Recent Tweets