Month: April, 2012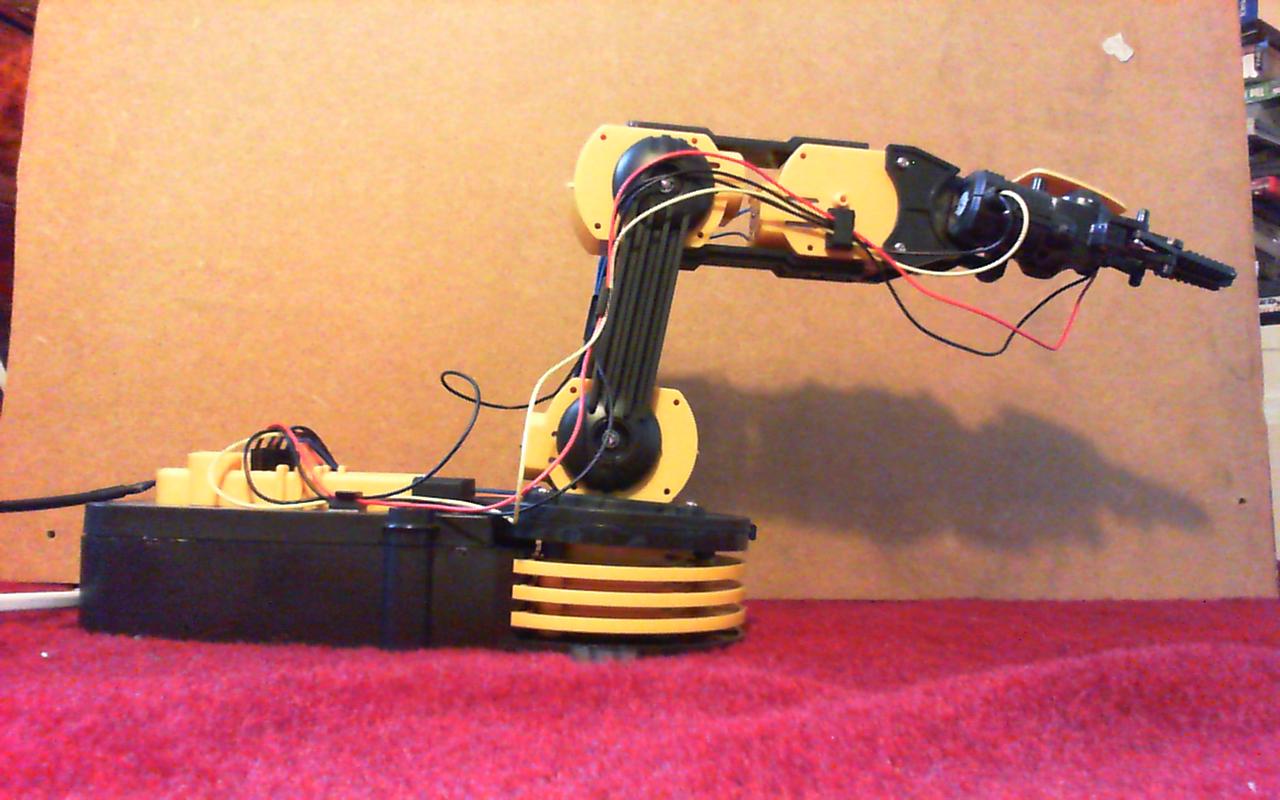 If this can be made accurate, anything can
Something I have realised is that there are no good open source robot arms in existence. Sure there are have been a few attempts (Oomlout,  TROBOT (kickstarter) but these are toy scale robot arms. What researchers, engineers and entrepreneurs need are arms of similar specifications to those used in factories. Unfortunately those kind of arms start at £10k and go up to £120k and beyond.
Now a common fallacy in build-it-yourself projects is cost savings. There are very real reasons why industrial arms cost so much. They are precision engineered, made out of cast iron and use very powerful actuators. The high cost is attributable to the quality of the engineering used to achieve a strength and accuracy specification. However I think I have a shortcut to precision.
March music night once again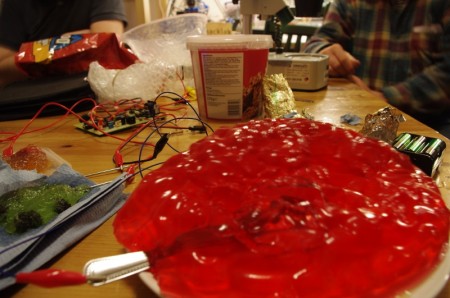 was busy with some familiar and new visitors dropping by during the evening. Jelly was a predominant theme of the night, with James of Madlab & Matt bringing along Jelly Theremin and Drum kit. Andrew K and Tom H unveiled a project they had been working on together, a single string instrument built using a length of knitted conductive fabric. Gary brought along several OLPC laptops to demonstrate their musical abilities and for everybody to play with.  Tom L was coding something with a microphone connected to a laptop that reacted to singing and similar sounds!
Thanks to Anne Suss for the videos
One of my friends is part of a team that developed an online pixel art drawing program. Its getting a lot of traffic these days with nearly 30,000 drawings uploaded. Interestingly he says one of the largest traffic drivers is a drawing of the Minecraft pick axe. If you google image search for Minecraft axe, Piq is the number 1 hit.
Anyway I thought I would share it with Edinburgh Hacklab people because its an Edinburgh team, its retro (being pixel art), and has tenuous links to Minecraft, our favourite Indy game. The pixel art application is pretty slick too, all written in javascript, with useful tools such as automatic mirroring of axis, adjustable pixel size and dynamic palettes. The quality of the top artists on there is fairly mind blowing too.
Enjoy
What is Edinburgh Hacklab?

Edinburgh Hacklab is part of the worldwide movement of Hackerspaces - shared spaces for people who mess around with technology for fun. By creating a shared space to do this, we provide access to better facilities than we could each have at home, as well as opportunities to collaborate, learn, and socialise. Read more.

Hacklab status: OPEN!

Next events

May 2013

»
M
T
W
T
F
S
S

1

2

3

4

5

6

7

8

9

10

11

12

13

14

15

16

17

18

19

20

21

22

23

Events on 23 May 2013

Software Night

Ends:

23 May 2013 - 11:00 pm

24

25

26

27

28

Events on 28 May 2013

Open Night

Ends:

28 May 2013 - 11:00 pm

29

30

Events on 30 May 2013

Software Night

Ends:

30 May 2013 - 11:00 pm

31

Hacklab

Categories

Recent Posts

Archives

Recent Tweets