Month: November, 2011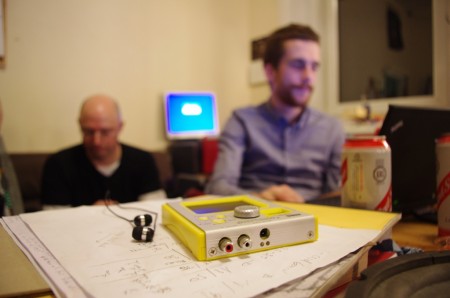 Okay, so I'm writing this with a bit of a sore head because we were hacking till gone midnight and I had to get up early the next day, but it was worth it.  Last night was the first in a monthly series of music hack nights at the lab, and it was crazy popular.  There were more people than chairs at some points in the night!
There was lots of talk, lots of playing with real and software instruments, some soldering, some embedded audio, and even some flashing lights.  Watch the video at the end of this post to get a feel for the vibe.  There was also discussion about ways to involve hacking with music, technology and performance.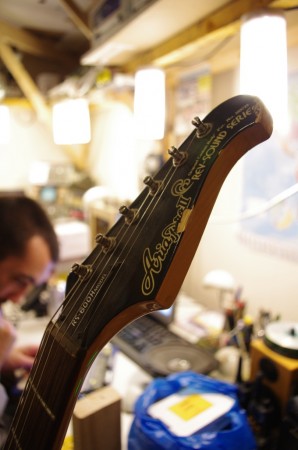 Thanks to everyone who came along and made it a great night.  We're planning the next one for the 16th of December and we're hoping to do a jamming session.  There's a public wiki for sharing our ideas right here.  Go there and add yourself to the People page, or to suggest things to do in December.  We'll argue about it nearer the time on the hacklab-discuss mailing list

Robotics blogger, Per Sjoborg, from flexibilityenvelope, is coming to visit us on Sunday the 20th. He is bringing the coolest pieces of consumer modular technology yet, Modrobotic's Cubelets. I'll be down from 2pm onwards if you would like to join us, or do any other kind of robotic hacking.
Tom
Next week, November 18th, we will be trying out a music hackers' night at the Edinburgh Hacklab.  This night is aimed at anyone who wants to make ingenious noises somehow.  Crafts, software, electronics, philosophy, whatever you're into that is hacky and musicky.  There's no fixed agenda, meet us and help us choose a direction for this fabulous-sounding new night!
We'll be kicking off at around 8 although the doors will be open for a while before.  Bring your ideas, your hacks, the tuba you made out of ikea packaging, and your hacking spirit.
What is Edinburgh Hacklab?

Edinburgh Hacklab is part of the worldwide movement of Hackerspaces - shared spaces for people who mess around with technology for fun. By creating a shared space to do this, we provide access to better facilities than we could each have at home, as well as opportunities to collaborate, learn, and socialise. Read more.

Hacklab status: Closed :(

Next events

May 2013

»
M
T
W
T
F
S
S

1

2

3

4

5

6

7

8

9

10

11

12

13

14

15

16

17

18

19

20

21

Events on 21 May 2013

Open Night

Ends:

21 May 2013 - 11:00 pm

22

23

Events on 23 May 2013

Software Night

Ends:

23 May 2013 - 11:00 pm

24

25

26

27

28

Events on 28 May 2013

Open Night

Ends:

28 May 2013 - 11:00 pm

29

30

Events on 30 May 2013

Software Night

Ends:

30 May 2013 - 11:00 pm

31

Hacklab

Categories

Recent Posts

Archives

Recent Tweets