Month: September, 2011
Update 23/9/11: See below for EVEN MORE awesome raffle prizes!
Edinburgh Hacklab is the city's first hackerspace, part of a global movement of spaces created by like-minded individuals worldwide who love to make and hack things. By creating a shared space to do this, we provide access to better facilities than we could each have at home, as well as opportunities to collaborate, learn, and socialise.
We started a year ago with 12 founding members and have grown to 20+ paying members plus many regular visitors spanning diverse backgrounds in engineering, art and science, using the space in hobby, academic and
professional capacities.
We've decked out the lab with a laser cutter, CNC mill and 3D printer letting us fabricate almost anything, we've run regular open nights and other events and built loads of cool stuff. And we still have yet MORE planned over the next year, including moving to a new and bigger space.
To mark the occasion we are celebrating in style and have booked out the entire ground floor at the Out Of the Blue Drill Hall, complete with bar. As well as the opportunity for a drink with our members and friends the lab will be open too and we'll be inviting you to see the space and some of the projects we've completed over the past year. There will also be a raffle with some great prizes donated by sponsors including Oomlout, O'Reilly, Cool Components, Farnell and Los Cardos. Don't miss it!
When: Saturday 24th of September 2011 starting at 16:30 till 21:00
(plus pub afterwards for the hardcore)
Where: Out of the Blue, 36 Dalmeny Street, Edinburgh EH6 8RG (map)
We look forward to seeing you there!
Raffle prizes
Thanks to all our generous raffle prize sponsors we have hundreds of pounds worth of awesome prizes in the raffle:
the DIY electronics gurus at Oomlout have kindly donated a great Arduino started kit with plenty of bits to get started, worth £57
Publisher O'Reilly has donated a great selection of stuff including issues of Make: magazine, a Make: magazine box set and two £30 vouchers
Hacklab favourite Los Cardos has given us a gift card for five, yes FIVE, main meals! (~£25 value)
Cool Components has given us a great Netduino starter kit, including a powerful ARM microcontroller and lots of components to play with (worth £44)
We have three great prizes from Farnell: two handy tool kits and an MSP430 experimenters board
Xilinx has donated T-shirts (the ultimate in geek fashion)
Hacklab is including a free place at one of our future Arduino starter workshops (more details soon!)
Edinburgh Hacklab is pleased to announce the arrival of a rather special bit of equipment, a laser cutter.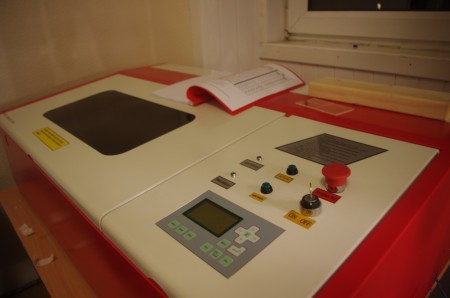 So what does one do with a laser cutter? It enables high resolution (0.0254mm/1000dpi) engraving and/or cutting of a wide range of materials including Acrylic, Crystal, Bamboo, Cloth, Fabric/Denim, Fiberglass, Glass, Laminated Plastic, Leather, Marble, Plastic, Paper, Rubber, Wood, MDF, Marble, Anodized Aluminum and Coated Metal.
Af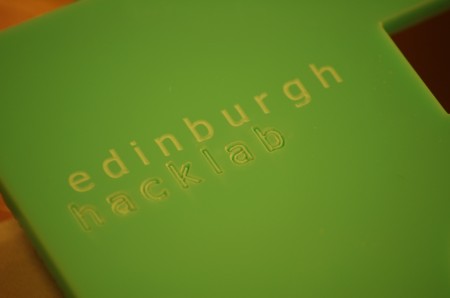 ter the initial setup was complete little time was wasted before lasering began!
Training for members will be taking place over the coming days and weeks, so expect to see some great stuff being made.
Enjoy the full installation process taking place in a time lapse video below.
Come and join the Open Street Map meetup on the Tuesday 13th September 2011 at the Guildford Arms 7:00pm.
Beside the chance to learn a lot from each other, we would like to discuss at that meeting further ideas for workshops and OSM events.
Maybe you have already some some ideas of Open Street Map topics you are interested and like to learn more about.
You would like to come but can't make it? Follow on twitter @OSMScotland (Not true, even if you come follow @OSMScoltand

Jane
(correspondence to go to OSMScotland)
What is Edinburgh Hacklab?

Edinburgh Hacklab is part of the worldwide movement of Hackerspaces - shared spaces for people who mess around with technology for fun. By creating a shared space to do this, we provide access to better facilities than we could each have at home, as well as opportunities to collaborate, learn, and socialise. Read more.

Hacklab status: Closed :(

Next events

May 2013

»
M
T
W
T
F
S
S

1

2

3

4

5

6

7

8

9

10

11

12

13

14

15

16

17

18

19

20

21

Events on 21 May 2013

Open Night

Ends:

21 May 2013 - 11:00 pm

22

23

Events on 23 May 2013

Software Night

Ends:

23 May 2013 - 11:00 pm

24

25

26

27

28

Events on 28 May 2013

Open Night

Ends:

28 May 2013 - 11:00 pm

29

30

Events on 30 May 2013

Software Night

Ends:

30 May 2013 - 11:00 pm

31

Hacklab

Categories

Recent Posts

Archives

Recent Tweets