Month: June, 2011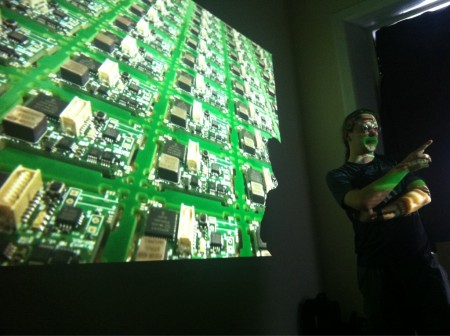 A quick thanks to everyone who came to the lab on sunday the 5th of June for our first set of organised talks.
We packed out the lab, it would've been a struggle to fit even one more person in. Martin and I really enjoyed giving our talks, and chatting with everyone afterwards. Thanks again to everyone who stayed back and talked to us, it was a great experience.
We've received some excellent feedback, and so far things seem to be pointing towards a definite possibility of another similar event in the future. Possibly on a larger scale, in a larger space than the lab itself. With more speakers and possibly a workshop or two.
If you're interested in attending future events please feel free to join our mailing list, where we'll be sure to post well in advance of any upcoming events. We'd also love to hear from anyone who's interested in running a talk, or has an idea for one.
We're opening the lab from lunchtime this sunday (5th june) to put on a couple of talks, and to maybe get some projects or conversation going afterwards. This is a tester for future events – I've spoken to people about some really interesting talks for the future, so if this one goes well..
For this event Martin is going to talk about electronics design, and i'm going to talk about managing your digital assets after you die. We may have a third speaker if things pan out, otherwise we'll just treat it like a normal open day – so feel free to bring laptops and projects.
If you'd like to bring something along and do a bit of a show and tell then feel absolutely welcome – I'll be re-arranging the room to suit presentations, we've got the projector and a table so knock yourselves out!
I'll be opening the lab at 12:00 and having some lunch – all are welcome, we'll aim to start the first talk around 1:30.
If you're coming along please put your name down here:  http://www.doodle.com/nzsth3suneruw9z6 so i know how many seats to set up.
Thanks, and I hope to see some of you there!
What is Edinburgh Hacklab?

Edinburgh Hacklab is part of the worldwide movement of Hackerspaces - shared spaces for people who mess around with technology for fun. By creating a shared space to do this, we provide access to better facilities than we could each have at home, as well as opportunities to collaborate, learn, and socialise. Read more.

Hacklab status: Closed :(

Next events

May 2013

»
M
T
W
T
F
S
S

1

2

3

4

5

6

7

8

9

10

11

12

13

14

15

16

17

18

19

20

21

22

23

24

25

26

27

28

Events on 28 May 2013

Open Night

Ends:

28 May 2013 - 11:00 pm

29

30

Events on 30 May 2013

Software Night

Ends:

30 May 2013 - 11:00 pm

31

Hacklab

Categories

Recent Posts

Archives

Recent Tweets